Latvian Niche Walls
Do you have a loved one with ashes in Rookwood Cemetery's Latvian Niche Walls?
Have your say about the proposed upgrades
Vai Tev ir tūvinieks kam urniņa apglabāta Latviešu Urnu novietnē, Rukvūdas kapsētā?
Lūdzu izsaki savas domas par paredzēto novietņu uzlabošanu.
At Rookwood General Cemetery, we pride ourselves in our commitment to caring for families – past, present, and future. We are an organisation steeped in history and reflect the cultural diversity of wider Sydney.
With over 150 years and over one million interments, it is often a difficult balance to offer a complete range of quality services for all communities.
At present, the Latvian Ash Niche Walls within Zone F, near Independent Lawn D are in a state of deterioration and in need of an upgrade.
Rookwood General Cemetery is proposing to move those currently interred within these niche walls to a new location. The new niches will be purpose-built for the Latvian community and very close to the location of the previous walls. This will include a new landscaped garden area.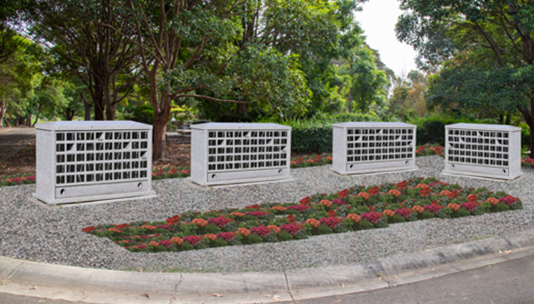 Click to enlarge: Artist impression of proposed Latvian walls
The land on which the current walls stand will be used to extend space for multi-denominational burials. The Latvian community will have the opportunity to purchase within this space to remain close to the Latvian Walls.
The Latvian Niche wall upgrade will involve a minimum 6-month consultation process before any work commences; this is to ensure we have spoken with families and relevant stakeholders.
Please be assured that this process will be handled with extreme care and respect to all of our valued families. We thank you for your time and look forward to hearing from you as soon as possible.
Your next steps:
View the artist impression for the new Latvian Niche Walls (above)
Call 0499 910 214 to arrange an appointment to discuss the process of relocating your loved one's ashes and plaque(s)
Are your details correct? To update your licence details, complete this form or call 02 8575 8100 for transfer enquiries
Send us your feedback using the form below:
Printed from https://www.rookwoodcemetery.com.au/latvian-niche-walls