Mausolea
Discover Our Mausolea and Crypts
In order to meet the needs of our families we have refurbished the Mausoleum and Chapel of Eternal Rest, likewise our outdoor crypts have been rejuvenated to grand above-ground resting places.
or call us on: (02) 8575 8100
Mausoleum of Eternal Rest
Popular within the Italian community, a Mausolea provides a unique alternative to lawn and monumental burials. Rookwood's Mausoleum of Eternal Rest boasts fine Italian craftsmanship and was built with aesthetics, comfort and longevity in mind.
Aesthetics
Three magnificent levels of granite faced crypts
Embossed glass feature walls and doors
Contemporary furnishings
Stunning views from the balcony
Comfort
Intimate indoor areas for prayer and reflection
Modern amenities and audio visual equipment
Private chapel for services and gatherings
Seating for up to 100 people
Longevity
Constructed from high quality materials
Designed to last the test of time
Maintained by a passionate team that care about our families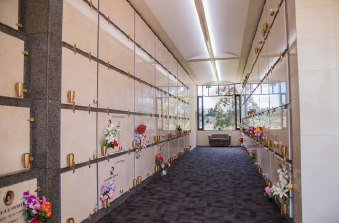 Carpenter Avenue Crypts
We also have outdoor crypts available for families that prefer an above-ground crypt, but also enjoy an outdoor setting.
The Carpenter Avenue Crypts offer all communities an impressive above ground structure in which memorialise a loved one.
To discuss which options are best for you and your loved one, our caring Client Services team is available to help. Please contact us for a personalised consultation.
or call us on: (02) 8575 8100